YOSHIKI's sixth consecutive performance at "Kohaku Uta Gassen" A collaboration with QUEEN, Sarah Brightman and many other famous artists.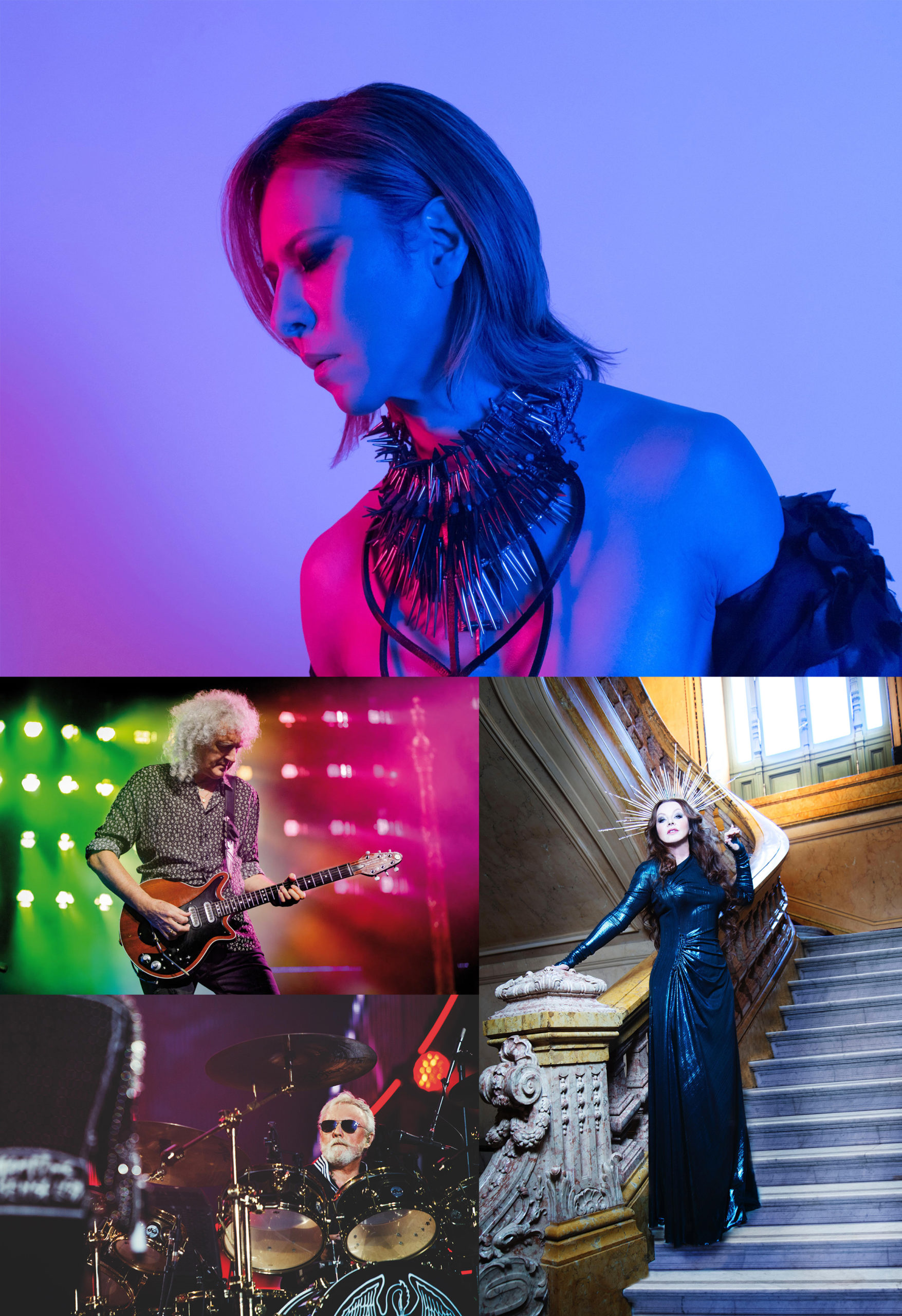 YOSHIKI will take part as a special act on the 71st "Kohaku Uta Gassen" (red and white song battle). With a call from YOSHIKI, QUEEN's Roger Taylor and Brian May, along with Sarah Brightman will participate remotely from across the world to perform. It will be a collaboration with world-renowned artists and several Japanese artists appearing in the show, to perform X JAPAN's timeless hit song: "ENDLESS RAIN"
Ever since the impact of COVID-19 in February, YOSHIKI has remained in LA, so he will join remotely from LA for this year's performance.
QUEEN's Roger Taylor (from the worldwide hit movie "Bohemian Rhapsody") and YOSHIKI co-wrote "Foreign Sand (Lyrics by Roger Taylor, Music by YOSHIKI)" in 1994 which entered the UK charts, have been friends for many years. Also, YOSHIKI opened at the "Classical Rock Awards (2015, London)" with QUEEN's greatest hit "Bohemian Rhapsody", which was praised by Brian May, who attended the event.
The world's best-selling soprano Sarah Brightman chose YOSHIKI's composition "Miracle" to be a single and was featured in her 2018 album. They have joined each other on stage for selected dates during her world tour, YOSHIKI's classical tour, and at "Kohaku Uta Gassen" in 2018.
Last year, YOSHIKI and KISS performed together as YOSHIKISS. From being active all over the world, YOSHIKI is the only one capable of these star-studded artist collaborations that will create a historical televised moment and will expand the name of "Kohaku Uta Gassen" across the globe.
Furthermore, this year's "Kohaku Uta Gassen" marks YOSHIKI's sixth consecutive performances and a total of eleven. Eight performances as X JAPAN and three consecutive performances as a solo artist.
Also, all newly written songs in the recent years have become huge hits, which have all been performed on "Kohaku Uta Gassen". In 2016 – Seiko Matsuda performed "Bara no youni saite Sakura no youni chitte", in 2018 – Sarah Brightman performed "Miracle", YOSHIKI feat. HYDE performed "Red Swan". And this year, YOSHIKI's "ENDLESS RAIN" special collaboration and "Imitation Rain" by SixTONES will be performed.
YOSHIKI's message :
" I am very honored to be performing at Kohaku again this year. It would have been ideal to go to Japan but with the global situation of the spreading coronavirus, I have remained in Los Angeles since February. 
Therefore, I will perform remotely this year.
With QUEEN members and Sarah also performing remotely from their countries, I can assure you it will be an exciting and breathtaking stage. I hope that through the music, we can give everyone courage. 
Please look forward to the performance."
71st "Kohaku Uta Gassen"
Broadcast details: General TV, BS4K, BS8K, and Radio 1
December 31st (Thur) 7:30pm to 11:45pm JST *with a 5 minute break for the latest news.
https://www.nhk.or.jp/kouhaku/